01 novembre 2007
The italian meringue method
Thanks to my kiwi friend, Edward, some english spoken people come to see my blog, that's why I've just started to translate it in -my not so good- english (sorry!). So enjoy...!
Even if I always get some nice macaron's "cockles" with the classic method, I really wanted to try the italian meringue method that Mercotte recommends.
Don't worry, it is not so much more difficult but a baking thermometer is needed.
After a little shopping in Ikea's (where you can find them for less than 10 euros), I was finally ready!
Verdict : Amazing! All the cockles are so smooth and bright! I'd definitely adopt this method! But, I have to notice that, by a strange way, all the cockles are more ovale than round...
Anyway, I have to practise because I promised to my sister that I would make a pyramid of macarons for my so pretty niece Aniella's baptism.

This is a picture of the angel :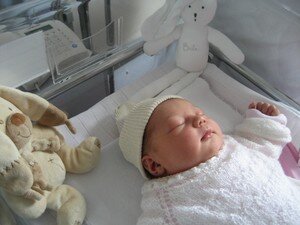 Isn't she the most lovely baby in the world?
I will tell you step by step the building of the pyramid very soon !


..............................................................................

--- The italian meringue method ---


Ingredients :

- 2 x 60g egg whites
- 35g white sugar ( to blend with the egg whites taken up in snow)
- 150g white sugar (for the syrup)
- 50g water
- 150g almond powder
-150g icing sugar


How to do it :

1. Mix up the almond powder with the icing sugar and then sieve them all. Reserve the whole in a salad bowl.

2. Take the first 60g of egg whites et take them up in snow with the 35g of sugar added in three times.

3. In a pan, blend the 150g of sugar with the 50g of water. Cook until 110°C (230°F).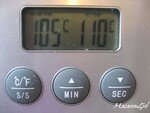 Pour in the tapken up whites in a thin thread while stinking at weak speed.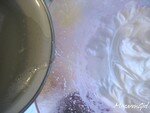 Continue beating until mixture goes down at 40°C /104°F.This is the italian meringue!

4. Stir in the other 60g egg whites with the blend almond/icing sugar. Mix well and add the the food colouring agent.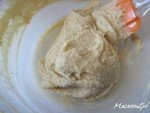 5. Incorporate the italian meringue into the last mixture delicately with a plastic spatula (maryse).

6. Pour the mixture into an icing bag with a piping tip. (Here for tha chocolate flavour)



As I prefer the small macarons, I use a a 0.5cm (diameter) tip but others would rather like a 1 cm one.
7. Raise small heaps on a plate covered with paper baking. Let "rest" 15 minutes before putting in the oven at 160°C for 12 minutes. (Mercotte cooks them rather tempest 140°C but my oven offers me only 130 or 160°C...)

8. Just wait for a little before taking them off the baking paper.


7. Put together two macarons cockles by intercalating some cream filling between.

To keep them, I recommend to put them on the edge in one limp hermetic. It is better to let them take all their taste in the fridge during 24 h before savouring them, on the condition of being able to resist!
Commentaires
Poster un commentaire