01 novembre 2007
The classic method
This is my classic and easier method to realize those famous macaron's "cockles" before garnishing them of ganache!
What do U need ?
- 90g egg whites
- 125g almond powder
- 125g icing sugar
- some food colouring agent of your choice
How to do it ?
1/ Make the "much for much"
In a blender, mix the icing sugar with the almond powder. Be careful not to "heat" the whole. Sieve it just above a sheet of baking paper. Reserve.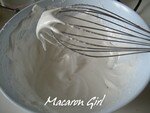 2/Make the meringue
Take the egg whites up in snow with half of the sugar. Then, when they're very thick, add the rest of the sugar and go on take them up a little more.
3/ "Macaronage"

In the taken up egg whites, stir in the "much for much" in three times with a plastic spatula (maryse) and then the colouring agent of your choice.
Put the mixture into an icing bag with a piping tip. I'd rather like to use 0.5cm diameter ones in rder to make small macarons.

4/ Dressage

Place a sheet of baking paper on the oven plaque.
Position the piping tip in 45° and make some 2cm diameter domes. Be careful of spacing them out well.
Let them rest for 20 minutes.
5/ Cook : for 12 à 13 minutes at 160°C
6/ "Building" the macarons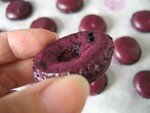 When they're cooked, let the cockles rest few minutes before take them off the baking paper. Someones recommend to flow some water under the sheet to take them off more easily.
For a more unctuous macaron with more ganache, I plant my thumb a little bit on the internal face of cockles before garnish them. Then keep them vertically in one limp hermetic.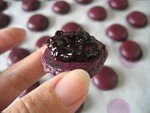 I recommend you to let them take all their taste in the fridge for one day before savouring them...
But will you be able to resist ?

Commentaires
Poster un commentaire